Adnan, Mozaic & Michael Tello – Welcome to the Jungle! March 9th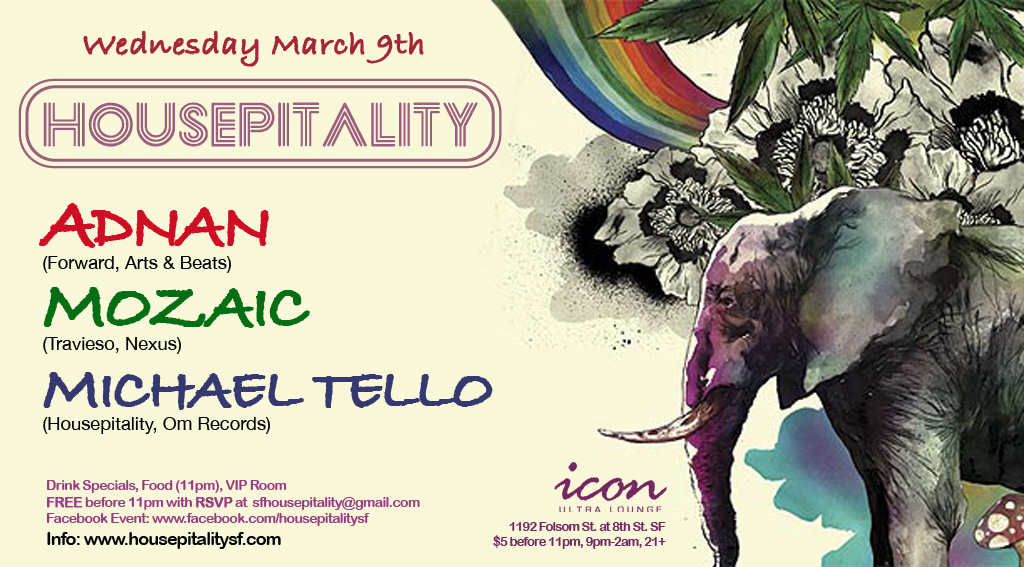 Wednesday March 9th Housepitality SF invites you into its jungle. Come lavish in the Tribal setting as we transform Icon Ultra Lounge into a tropical oasis with trees, specialty hand made drinks, Free healthy yummy appetizers, rock your favorite jungle print attire and get in FREE before 11pm or simply RSVP at sfhousepitality@gmail.com.
Taking you on your sonic safari is 3 of San Francisco's loved DJ's. Adnan is best known for his Forward events which are a staple to our wonderful dance community. Robert Mozaic is known for putting down some of the sickest, bounce, tech house and techno sets around town. Housepitality host and resident DJ Michael Tello will be your guide into the evening with his signature sexy deep tribal tech house. So lets take a trip together and let our spirit animals run free in the music.
ADNAN
Adnan Sharif @ Forward Feb 18th 2011 by Adnan Sharif
MOZAIC
MICHAEL TELLO
Change Is Hope by Michael Tello