HOUSEPITALITY w/ BORIS WERNER, Bells & Whistles, Mike Bee & Joel Conway
https://www.facebook.com/events/382030455257255/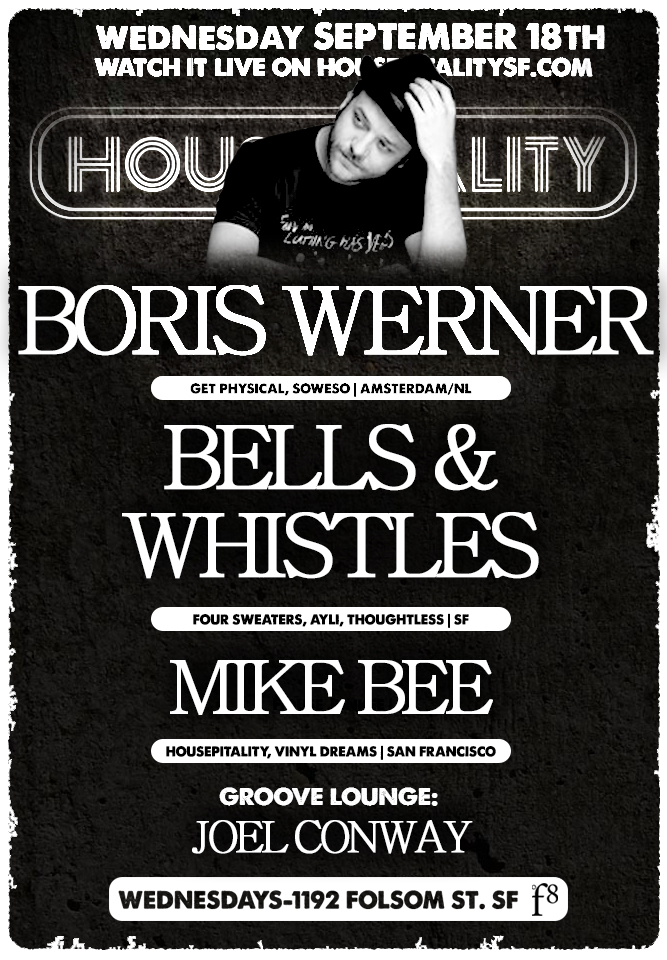 ( ( ( (H O U S E P I T A L I T Y) ) ) ) ) is proud to welcome one of the most fun, unique, inventive, tastemaking (and hard-partying) house DJs from Amsterdam, along with one of SF's fastest-rising duos, with an opener from our resident:
::BORIS WERNER (Get Physical, Soweso | Amsterdam/NL)::
::BELLS & WHISTLES (Four Sweaters, AYLI, Thoughtless | SF)::
::MIKE BEE (Housepitality, Vinyl Dreams | San Francisco)::
Groove Lounge:
::JOEL CONWAY (Housepitality, Bubble | San Francisco)::
Many among our fans will know the name Boris Werner, but for those who don't, suffice it to say he's an amazing DJ/producer from Amsterdam. He plays fun, inventive, quirky music that is always very PARTY.
He's played at a laundry list of the important clubs and gigs for any respectable European house DJ: 11, Studio 80 (including legendary 10 and 11 hours sets), Rex Club, Voltt, 5 days Off, Tenax, Panoramabar, T/bar, Awakenings, Welcome To The Future, Sonne Mond und Sterne, WMC, Trouw, Sonar, ADE…the list goes on.
Further, he runs a club night at the famous Trouw club in Amsterdam called LATE NIGHT SOCIETY (the motto is "dress up chic, act like trash.") Aaaaaand… I think that's just about all you need to know.
In the middle slot, playing before Boris, we once again host our friends Bells & Whistles. This SF-based DJ and production duo, made up of friends Zack Yakovlev and Yanick Rieffel, was the first booking that Miguel Solari made for Housepitality. Since that time almost 3 years ago, it has proven prophetic; they've continued to amaze audiences all over, landing a coveted residency with the As You Like It production crew, and starting their own Four Sweaters collective. Also, in the intervening years, their DJ chops have improved markedly (they often seem to be DJing with one mind and 4 hands). Never miss a B&W set, if you can help it. That's just good party advice.
Finally, our residents take the other slots: Mike Bee opens the main room, digging deep into his endless collection of vinyl to find songs of a more housey nature than he would play in the Groove Lounge. Joel Conway takes over his captain's booth, commanding our Groove Lounge disco time capsule straight back into the depths of slow-bpm deliciousness.
♥
The details:
FREE before 11pm with RSVP at www.housepitalitysf.com/rsvp
otherwise $5 before 11pm, $10 after
FREE champagne from 9pm-10pm
$5 Jameson (with mention of Housepitality discount)
Streaming LIVE at http://housepitalitylive.com/
*****************************************************
Boris Werner
Known as an enfant terrible and serving as a radiant light of every after hour, but most of all he is notoriously known for his merciless productions. Yes, we are talking about the thrill seeker of his generation: Boris Werner. The Amsterdam based bad boy is not afraid to speak his mind and lets his fearlessness reflect in his music productions. Living weekend to weekend while having all kinds of musical escapades in between, this rock star's music got widely recognized in the international music scene we call house. Over the last years he has created quite a stir for himself and he is well on his way to continue his rollercoaster of a ride.
Behind the decks of different clubs all around the world, being in charge of the music at an after hour, but mostly spending night after night in his studio during the week, there isn't a moment when he's not working. And it paid off: while the hammer track 'Set it off' released on Soweso was destroying a couple of dance floors around the globe, another EP 'Slow Dancin' came out on Get Physical in the fall of 2012.
Boris Werner: a charismatic leading figure of the house music scene, who is forever young at heart. He has promised himself he will continue to keep pushing dance floors and promoters worldwide. It isn't easy not to fall under his spell when he plays his sound that is filled with lush grooves, thick baselines and subtle melodies, brought with his incredible enthusiasm and dedication to party. Now he has found his new direction in music, there seems to be no way of stopping Boris Werner doing what he does best.
https://soundcloud.com/boriswerner
http://www.residentadvisor.net/dj/boriswerner
https://www.facebook.com/djboriswerner
*****************************************************
Bells & Whistles
Since their 2008 arrival in San Francisco, Yanick Rieffel and Zack Yakovlev have been cutting their teeth and building a dedicated following as the playful, yet casually sexy duo, Bells & Whistles. Exploring the deeper and often unique end of house music, they've curated a host of events, from the now infamous Dresscode party to their monthly at 222 Hyde. The guys have shared the decks late into the night with many budding international acts and old skool heavy hitters alike. To catch them in their element would be to find them playing funky and chunky tunes at intimate locations in the depths of the city's underground scene.
For two years now, Yanick and Zack have been dedicatedly producing a wide-range of music from the home studio they share and in 2012 released a remix of Reckon's "Fly and Drive" for Mioli Music. They also recently remixed Jason Short's "Low Down Dirty Shame" on Thoughtless Music that has been heavily featured on XLR8R. On January 27th, Bells & Whistles launched Four Sweaters, their latest creative outlet, to support forward-thinking dance music and visual art. The launch party, hosted at Monarch featured the debut of Suol Records in San Francisco. Bells & Whistles possess a brother-like collaboration, both on the decks and in the studio, for crafting low-slung grooves and the ability to shape the vibe of any party. With the launching of Four Sweaters, 2013 promises to be a bigger year for the boys from San Diego, so keep your eyes and ears open as Bells & Whistles continue to develop their sound and new project, one party at a time.
https://soundcloud.com/bellsandwhistlesmusic
http://www.residentadvisor.net/dj/bellswhistles
https://www.facebook.com/Bellsandwhistlesmusic
*****************************************************
Mike Bee
Mike has been a pro DJ for going on 20 years. Former music journalist (XLR8R, Urb, SF Bay Guardian), club promoter (La Belle Epoque, Bottom Heavy, Safe, Future Shock – all SF), label owner (True Intent) and buyer for Amoeba SF's electronic music section for 6 years (13 at Amoeba total). Mike now operates a record store called Vinyl Dreams (in the Lower Haight district of SF), (www.vinyldreams.us), and is a resident of Housepitality.
http://soundcloud.com/mikebee
http://www.vinyldreams.us/
http://on.fb.me/OxlkGV
*****************************************************
*****************************************************
Enjoy handcrafted cocktails by our very own groove lounge mixologist.
World class acts, world class music, every Wednesday night..
We got you!
Located at F8 (formerly Icon Lounge)
1192 Folsom
Folsom St. at 8th St., SF
Streaming LIVE at http://housepitalitylive.com/
9pm-2am | 21+ | 3 Rooms