HOUSEPITALITY w/ D-WYNN aka R-Type, Carlos Souffront, Miguel Solari & Stacey "Hotwaxx" Hale
https://www.facebook.com/events/1376724152559987/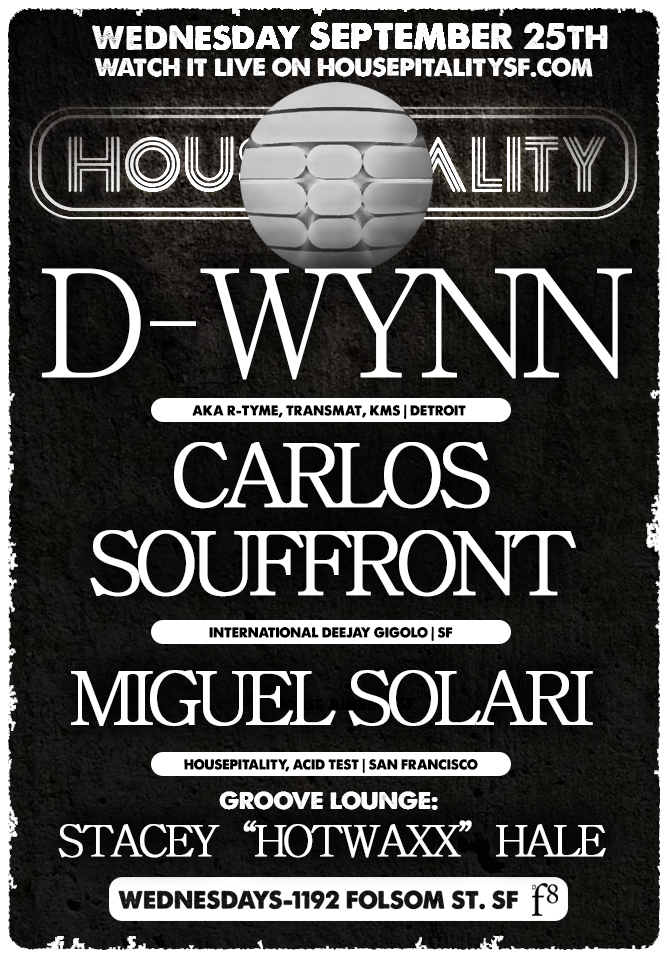 ( ( ( ( (H O U S E P I T A L I T Y) ) ) ) ) is honored to present the SF debut (after 25 years) of Detroit's legendary DJ's legendary DJ – from the true depths of the Motor City to the vicinity of San Frandisco:
::D-WYNN aka R-Tyme (Transmat, KMS, Detroit)
::CARLOS SOUFFRONT
::MIGUEL SOLARI
Backroom, Detroit's underground queen and past Housepitality headliner, plays a backroom set exhibiting dance music styles beyond the house genre:
STACEY 'HOTWAXX' HALE
"What??? D-WYNN??? Are YOU SERIOUS???"… is the most common response from someone with Detroit roots.
Detroit's D-WYNN carries serious weight and respect in among "legendary djs" of the Midwest .. From Richie Hawtin to Derrick May to Chez Damier and everyone else in between and after, almost any of them will agree and will pay their due respects to D-WYNN for his uncanny dance floor movement powers and efforts that made the Detroit underground scene what it is today. Miguel Solari got his mind blown at a college house party in Ann Arbor Michigan when he experienced D-WYNN's dance floor magic in person. From that point forward Miguel kept finding D-WYNN always playing peak hours at some of the most revered underground parties in the depths of Detroit and it was always memorable. Simply put, D-WYNN was everyone's favorite dj. His dynamic performances at Richie's Plus 8 parties are etched in Detroit's underground music history. What Miguel didn't know back then was how much relevant previous history D-WYNN already had in Detroit at that point. He was in fact one of the founders of the original Music Institute. This was an underground venue where he, Derrick May, Chez Damier and others along with guest performers were exposing people to the sounds of early techno and house and paving the future of this underground music culture. D-Wynn and Derrick May together produced music under R-Tyme which was also in fact one of the original Transmat releases. He has released on KMS, Planet E, his own label R-Tyme has done a lot of remixes along the way, in fact we can expect a release by him on Mood's and Grooves later this year. D-Wynn was extremely difficult to find. Some of the best artists in the world don't necessarily like the spotlight and they operate from a different place in the brain. I believe D-WYNN is one of these naturally talented people with a keen ear for the aesthetics of the dance floor. The truth be told Miguel had been trying to book D-WYNN for a couple of years without luck. He has asked every single Detroit dj he has booked in the past and has gotten very strange replies or non-replies, as if they were all corroborating to keep D-WYNN a secret. The only piece of information he had from these Detroit artists was that "he played the Metroplex 25 year anniversary party".. Finally, on one of many hail-Mary attempts to find him, Miguel asked Stacey Hale, another Detroit legend, for the third time to help him find D-WYNN's contact. She was quiet for a minute and said, "let me see what I can do".. a few hours later she finally gave me his digits. Her first response was shady as most of the other Detroit djs he had asked in the past. It was as if they had to get permission from Detroit's underground mission control center or something. After Miguel spent time speaking with D-WYNN it was clear that he is a straight up "underground" artist and does not reveal himself that easily and wants his 'music to speak for itself." He doesn't like to be recorded nor like to have bios or mixes or profiles online, he prefers to stay strictly underground. Well, the wait is now over, THANK YOU STACEY FOR GIVING UP THE CONTACT, we are now able to exclusively bring you D-WYNN to rock the floor at Housepitality… 25+ years of party rocking experience is about to come your way.
Our dear friend and PHENOMENAL vinyl dj artist, SF transplant originally hailing from Ann Arbor MI, Carlos Souffront comes to support and play alongside one of his favorite artists. He is extremely excited to play with D-WYNN. Housepitality captain/co-founder, Miguel Solari opens up the floor and Stacey Hale comes back to Housepitality to play a backroom set to flex her musical anctics beyond the house music genre. This night is designed to deliver one of the most unique musical experiences we have ever had. We are very exited to share this with you.
*******************************************
The details:
FREE before 11pm with RSVP at www.housepitalitysf.com/rsvp
otherwise $5 before 11pm, $10 after
FREE champagne from 9pm-10pm
$5 Jameson (with mention of Housepitality discount)
$6 Porton Pisco Sours
Streaming LIVE at http://housepitalitylive.com/
Enjoy handcrafted cocktails by our very own groove lounge mixologist.
World class acts, world class music, every Wednesday night..
We got you!
Located at F8 (formerly Icon Lounge)
1192 Folsom
Folsom St. at 8th St., SF
Streaming LIVE at http://housepitalitylive.com/
9pm-2am | 21+ | 3 Rooms