HOUSEPITALITY 2017 SUMMER WEBSITE UPDATE & PAST LINEUPS
First of all THANK YOU all for continuing this Wednesday night culture with us. We are almost 7 years old and the party is going stronger than ever so we are grateful for your participation. We want to update you on our website plans going forward.
Wednesdays in 2016 and 17 thus far have been full of phat ass line ups and that kept us VERY busy and the only downside to all this midweek greatness is that our website content has fallen apart and we apologize. However, WE NEVER STOPPED THE MIDWEEK ACTION, WE STILL GOT YOU and the party continues. It's however admittedly easier to post to our facebook page, Resident Advisor, Upallnight and our Instagram pages to announce/promote parties but we want to put some love back into this trusty website.
As you look back on our website one can clearly see that we used to do entire stories on our up coming guests but these feature stories took a lot of time to produce so we went rogue and just focused on throwing the party SO WE ARE DEFINITELY INTERESTED IN HELP WITH CONTENT FOR OUR SITE. What does this mean?? Artist interviews, event announcements, stories, podcasts, etc. YOU DOWN? email sfhousepitality AT gmail dot com/ – But here are a four screenshots that depict the past 16 months since our last post.
ANYWAY, as we said we are going to start using our website again and we hope that you will engage with us here as well and one of you will hopefully be interested in helping us with cool content but we will at least be announcing our events here more often.
For your current information, See you tomorrow for Charlotte The Baroness' and Gehno's bdays along with the Polyglamorous Crew in the back..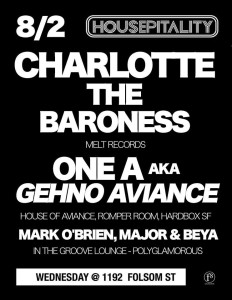 Per usual FREE CHAMPAGNE 9-10 W/RSVP or $5 before 10pm and $10 after. SEE YOU THEN.. WE GOT YOU….