11/15/17 – EDDIE C, KOOSH, MIKE BEE – THE STORY BEHIND THIS ONE
Housepitality feat EDDIE C, KOOSH & MIKE BEE fb invite.
This isn't the first time we've had Eddie C and you know that if you are a Housepit head. In fact I believe it's the fourth but this one has a really special story behind it.
Earlier this year (2017) I took a road trip to beautiful Victoria BC on Vancouver Island to get away from things and experience something new on my own. Just wanted to gtfo of SF for a bit, you know. What I've realized is that no matter where you go, the music follows, or you follow the music.
So on my second night there I went out to a disco party with a friend and I met thru Jay Tripwire. The beautiful Lito Ford was playing great tunes and then I was introduced to smiley fella with good vibes named KOOSH. We immediately hit it off and it turns out that he knew our resident and good homie Mike Bee. But it didn't end there, he knew Jason Drummond aka Dj Spun (who has also played for us on a couple occasions) and loads of other heads. Well, he introduced me to the real Victoria BC which I had NO IDEA had spawned some of the best underground dance music acts on earth: like Matthew Jonson, Cobblestone Jazz, the Mole, Konrad Black and more which I am forgetting right now.
I had met this other dude named DJ that night and somehow we discussed the same Plus8 party in Detroit which we had both been at. This let me to the topic of Eddie C because he is one of the only other Canadian heads I know who shared that experience too. It turned out that Koosh and Eddie go way back to the beginnings of Eddie's love for disco. Koosh showed me his discography with various work he had done with Eddie. Koosh and Eddie have released on Common Edits, Honey Disco, 7 Inches of Love (Koosh and the Mole's edit label) and Red Motorbike, Eddie's label. He showed me some 2×12 release of all Victoria heads which I can't find on Discogs. It had the whole gang on there. Suddenly it was clear where all this affinity for disco came from, Victoria pretty much. I can't go into all the stories and things I learned but it was clear to me that the next time we had Eddie C come play the Housepit, Koosh had to be part of it.
ANYWAY….. Koosh ended up bringing up Mike Bee to Victoria earlier this year too and he had also invited me to come play BUT I wasn't able to make it, THUS, Mike Bee is also part of this line up. The common thread between all this is the magical disco connection and this is a topic that deserves its own chapter or blog post someday. If you know what this means, YOU KNOW WHAT I AM TALKING ABOUT, its deep. I found it big in Victoria and I ended up going to Mancuso's legendary loft party this year because of it. That is another story for another day. Ask me in person.
SO, let me blow your mind ONE MORE TIME.. This is the big moment. I only recently realized that Eddie had released a live recording of him at Housepitality in 2015 and ITS SICK!!! Crazy night, but the most important thing you need to know is the second track is by KOOSH.. yea.. and deeper into the mix there is another track by Koosh.. here is the mix.. :)..
This Wednesday Nov 15th is connected.. JUST REMEMBER.. how we do..
Here is an epic pic of Eddie from that night in 2015, ROCKIN the crowd..
How bout this one… heads loosing their shit basically..
WE ARE VERY EXCITED TO HAVE EDDIE C AND KOOSH PLAY HOUSEPITALITY THIS WEDNESDAY with OUR RESIDENT MIKE BEE IN THE LOUNGE.
enjoy – yours truly,
Miguel
———
THE DEETS….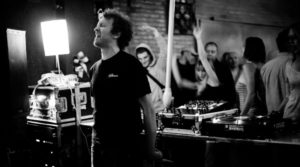 A very special Red Motorbike label showcase feat…
EDDIE C
(Red Motorbike)
https://soundcloud.com/eddiec
KOOSH
(Red Motorbike)
https://soundcloud.com/koosh-koosh
Lounge:

MIKE BEE
(Vinyl Dreams, Housepitality SF)
https://soundcloud.com/vinyl-dreams-records
Raised in Southern Ontario somewhere between Detroit and Montreal, Eddie C began his experiments in music some time in the late 80s. Inspired first by Hip Hop and the burgeoning Acid House scene, he began making tape edits of late night radio and shortly thereafter began visiting record shops and warehouse parties to discover the music first hand. Record collecting has since been a way of life for the man, followed closely by an opposing passion for skiing which lead him to his 10 year sabbatical in the Rocky Mountains of Canada. With plenty of time over the past decade for reflection and research in his log cabin studio, C has recently re-located and reconnected with the electronic music community in Berlin. His raw yet sophisticated approach to production has yielded countless releases and remixes since just 2009 and his now renowned eclectic and passion-fueled DJ sets have garnered a cult following world wide.
Eddie C could well be described as one of the Slo Mo/ Edits/ Disco scene's heaviest hitters. In just over three years he's featured on or been the main attraction with over 25 original EPs and singles and countless remixes. Having graced labels like Jiscomusic, Endless Flight, Crue-L, Sleazy Beats, Wolf Music, 7 Inches of Love & Home Taping, amongst others, with his deep, lush and beautiful grooves, C is constantly name checked by every major playa this end of the underground.
Free champagne from 9pm-10pm.
As always , free with RSVP before 10pm on our site.
$5 preales thru ResidentAdvisor or UpAllNight.